Last week Amazon announced that its sales of ebooks, in units, have exceeded its sales of hardback books. Further proof, of course, that the age of the ebook is upon us, and all the more reason for you to check out Calibre, a free, multiplatform ebook management software that is simply best in class.
Calibre can manage all aspects of maintaining and using an ebook library. It can view ebooks of virtually every conceivable type, convert across different formats, download and tag ebooks with metadata (including cover artwork), and upload ebooks to various hardware ebook readers and mobile devices, including the iPhone.
Calibre even has a built in server that can provide online access to your ebook collection remotely.
Calibre is an ebook manager that is designed in a similar style to today's media managers: thumbnail view, automatic downloading of metadata, a star-rating system., even ebook browsing via an iTunes style thumbnail carousel.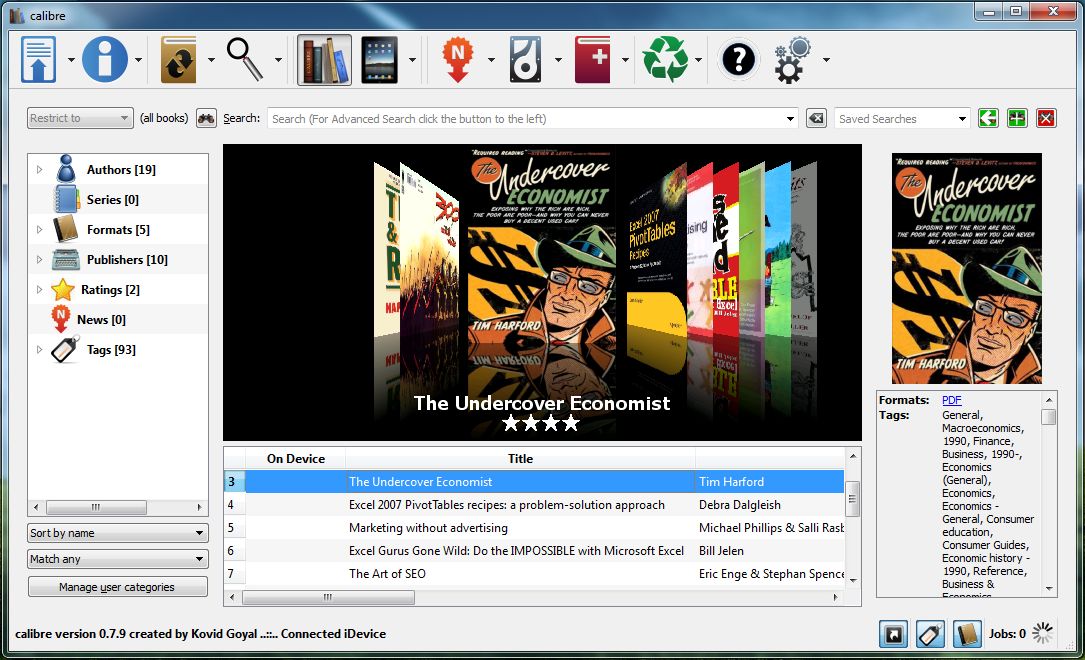 But what is even more impressive about this program is the sheer range of ebook formats that it supports, which, as a consequence, enables it to be the only ebook reader/ebook management software you will need. Here are more notes on this program:
Tagging: downloading metadata and cover art is one of the most gratifying and value added experiences that can turn a bunch of scattered ebook files into an organized library. Calibre delivers beautifully on this front.
Conversion: can convert a wide range of input and output formats. In the world of ebooks, conversion is an essential function because many devices are picky about what formats they read. You may lose some formatting, etc. depending on your input or output formats, but you get the sense that the program did "all it could" given the situation. I converted a CBR comic book to ePub and remarkably, Calibre handled it beautifully.
Input formats: CBZ, CBR, CBC, EPUB, FB2, HTML, LIT, LRF, MOBI, ODT, PDF, PRC, PDB, PML, RB, RTF, TCR, and TXT
Output Formats: EPUB, FB2, OEB, LIT, LRF, MOBI, PDB, PML, RB, PDF, TCR, and TXT
Ebook viewing: while the internal ebook viewer is a very competent one and can view all supported "input formats" above, Calibre does not force you to use its internal viewer. Double clicking on a PDF ebook in the carousel, for example, would open that title in your default PDF viewer. Alternately you can associate ebook formats with Calibre if you do not have a preference to use an alternate program.
Downloading news: Calibre can download news from the internet and convert to an ebook format, allowing for offline reading on your device later on. I did not try this function myslef, as I figure it will at some point no longer be necessary as more and more reading devices become WIFI and 3G enabled.
Ebook server: I was able to use Calibre's server to upload ebooks via WIFI on my iPhone (using the Stanza free ebook reader app). Was thrilled that iTunes did not need to be involved (although Calibre can work with iTunes to upload books to Apple devices).

The verdict: Calibre is an excellent program that deserves a permanent spot on your PC. If you have a lot of unorganized ebooks it will be a godsend; if you have a mobile device of some sort it is simply a must. Try it you will not be disappointed.
[Thanks go to reader Roger for mentioning Calibre in the comments section of my "Top 30 Freeware" article]
Version Tested: 0.710
Compatibility: Windows XP, Vista, Windows 7; Mac; Linux.
Go to the program home page to download the latest version (approx 30 megs).