ComicRack is a free comic ebook reader for CBZ, ZIP, CBR, RAR, TAR and PDF formats. It is designed as a full-feature reader with bells and whistles as well as being a manager for your library of comic ebooks and metadata.
It can also convert ebooks to other ebook formats.
If you don't know what they are, comic-book format ebooks are typically images files that are compressed into archives and displayed in a reader according to the naming sequence of the individual images (more info on comic book formats here).
Comic readers are usually geared towards displaying pages/images full screen, rotating and scrolling them for the best reading experience.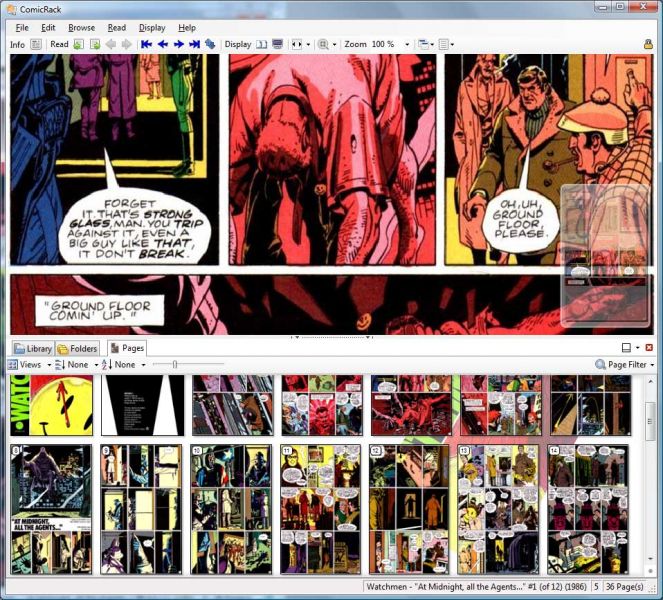 ComicRack is a worthy replacement for CDisplay, the standard bearer for comic book readers (which is also free). It goes a couple of steps further in that it is not just a display engine but includes the functionality to manage your ebook collection. Here are most notes on this program:
Bells and whistles: there are many of these, including multiple display modes (rotate, 2-page views, etc), scroll mode, information overlays, color adjustment, automatic background matching, a magnifier tool, etc.
The user interface: is generally nice and highly customizable, but may have just too many options and tweaks to be user friendly. Supports a tabbed, explorer-style file browser that can be placed on the left, right, or bottom of the screen (or in its own window). The type of view within the browser can be customized as well in a way reminiscent of Windows' folder views. You can even save your workspace once you arrive at a customized layout/view combo that you like or create and save multiple workspaces. See the tips and tricks page for more info.
PDF support: supports PDF eComics (which is to say PDFs that contain images only). However ComicRack also has the ability to read any PDF provided that you install the latest version of Ghostscript as well.
Ebook conversions: convert any supported format to PDF, TAR, ZIP formats, or a JPEG folder. Rename the ZIP extension to CBZ or if you want CBR just compress the folder of Jpegs into a RAR archive and change the extension to CBR.
Search function: searches your entire library using available metadata (see below).
View multiple files: at the same time, each having its own tab on the main display.
Metadata: ComicRack is a full-featured metadata manager, allowing you to really get in all the information that you ever care to specify about your collection (right click on any page then select info to get there). It will also allow you to search your collection's metadata and to filter by the various properties (genre, writer, series, etc.) or use these to create smarlists.
Ratings: right click to quickly give your ebook a 1-5 star rating as part of its metadata.
Portability: can be used portably. From the program's readme: "[change] the value "UseLocalSettings in ComicRack.exe.config to true … [then] copy the whole install folder to a USB stick and start it from there. All settings and the library access will now work from the USB stick".
Keyboard shortcuts: you can set these in the preferences section if you are keyboard-oriented.
Sharing: multiple ComicRack installations on networked computers can share libraries (but no you cannot share your library with other users over the Internet. More info here.)
Wish list
At times I had a feeling that less may be more (the file browser in particular seems like it has way too many functions-within-functions). This is less a criticism than a personal preference, though.
File associations: you have to go to the settings to associate files with ComicRack. It would be helpful to be asked to make decisions on these in the installation process.
The verdict: if you have comic ebooks, ComicRack is a must download. (See this page for some resources on getting free comic ebooks).
Version Tested: 0.9.75
Compatibility: Windows 2000 or better. Microsoft .NET Framework 2.0 required
Go to the program home page to download the latest version (approx 1.97 megs); scroll to the middle of the page for the link .