Do you listen to audiobooks on iTunes, iPhone or iPad? If so, check to see whether your audiobooks are in m4b format, and whether each audiobook is contained within a single file or spanned across multiple audio files.
The reason for this is that an audiobook in a single M4B file can provide you with a number of extremely convenient features on iTunes and iOS devices: the ability to pause and resume later from the exact same spot, and the ability to set bookmarks and chapter markers within your audiobook.
Chapter and Verse is a convenient, free tool that can process audio files of all types into m4b audiobooks.
It can re-encode multiple MP3s or other audio formats into a single M4B audiobook, and will let you create chapter markers and edit metadata. Users can also associate different images with different chapters that will be shown during playback on iTunes, and iOS devices.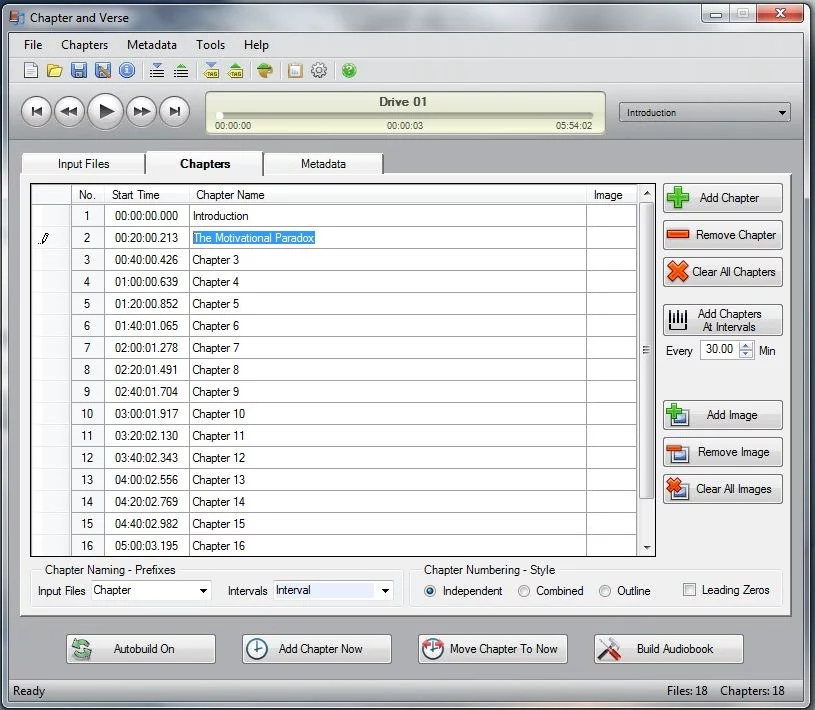 Usage: the interface is divided into 3 tabs; "Input files", "Chapters", and "Metadata"; load up your audio file(s) in the first tab. In the "Chapters" tab you can designate the chapters and any chapter specific cover art or images to associate with each, while the "Metadata" tab allows you to edit your audiobook's metadata and add cover art (it does not auto-fetch metadata off the internet though).
What you can do with it: mix and match the following
Many files to one: convert multiple mp3 (or other) audiobooks into a single .M4B audiobook file
Chapterize by file: each input file can be set as a single chapter
Chapterize by interval: you can decide to use a regular time intervals as ad-hoc chapter markers; alternately, you could determine chapter intervals manually or import them from a .CSV file.
Edit metadata: for the audiobook file as a whole. You can use the metadata from the source file itself or edit it manually import from an XML or media file.
Edit chapter names and images: optionally enter a title for each chapter (see screenshot above), and optionally associate an image or cover art that would be displayed on iTunes or your iOS device when the chapter is being played.
You can add resulting audiobook to the iTunes library: optional.
The verdict: if you listen to audiobooks on iTunes or own an iOS device, and if your audiobook library is collected from various places and not just the iTunes store, then this is a must have piece of software.
Of course, you could create your .MB4 audiobooks without installing a software such as this one, by merging your audiobook MP3's, converting to AAC, and renaming to .M4B, but Chapter and Verse makes it all so much easier and streamlined, not to mention lets you designate chapters, add cover-art by chapter, and edit metadata.
The only thing I could wish for is searching/fetching metadata automatically from the internet
Version Tested: 1.0
Compatibility: Windows. Requires iTunes.
Go to the program home page to download the latest version (approx 9.1 megs).