Do you have a lot of icons on your desktop? Are your icons carefully placed according to some sort of personal scheme or system? Are you annoyed every so often when an event, such as a resolution change or a Windows update, completely messes up your desktop icon placements?
DesktopOK is a free app that can save and restore your desktop icon positions. What makes this one special, however, is that it can run in the background and take "snapshots" of your desktop icons at a set schedule, say every hour or so (better yet, it can be instructed to take these snapshots only if it detects a change).
DesktopOK has a lightweight memory footprint, is portable, and is available for 32bit as well as natively for 64bit systems.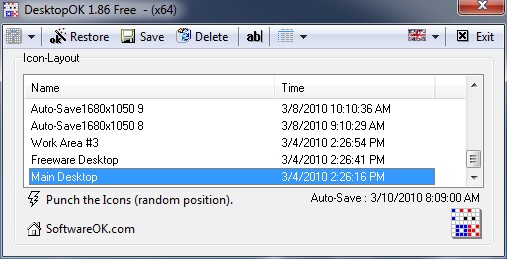 While there are a number of free programs that can save and restore your desktop icon positions for you, DesktopOK, as mentioned above, has the added benefit of staying in memory and

periodically saving snapshots of your icon placements. What this means is that when you actually need to restore your icons to the correct placement you are likely to find an automatically saved snapshot from, say, yesterday, instead of using the manually saved icon placement from two weeks ago.
More info as follows:
Two ways to save/restore icons: you can either add the current icon layout as an entry in the DesktopOK interface (whereby it will be saved to an .INI file in the same directory as the executable), or otherwise save straight to disk as a .BOK file.
Auto save: as mentioned previously, can be scheduled (for example once a day, every hour, every 6 hours, or every 15 minutes). You can also choose, when performing a scheduled save, to only save icon a new icon layout if it detects a change from the previous layout.
Optional Save/Restore on shutdown or startup.
Memory footprint: a lightweight 3 megs
Portable: yes indeed.
Extra functionality: the option to tile or cascade open windows via the system tray icon. I don't usually like random functions tacked on that are unrelated to the main function, but in this case I must admit I like it. See screenshots to the right.
Works with virtual desktop software: specifically Dexpot, which I use and which allows icon configurations specific to each virtual desktop.
The verdict: an awesome program. Not only is it extremely low on memory use, but the scheduled icon snapshots taking place in the background is an excellent functionality that many similar apps do not offer (certainly not the couple of similar programs that I reviewed previously on Freewaregenius). A winner!
Version Tested: 1.86
Compatibility: WinAll. 32 bit and native 64 bit versions available.
Go to the program home page to download the latest version (approx 40K).