Quantcast puts together profiles of the demographic make-up of US web traffic for over 20,000,000 sites. Geared towards advertisers, these demographic profiles are made available for free on the Quantcast website simply by entering a URL in the search box.
If you have a website you might have wandered about the demographic makeup of your audience; are they young/old, mostly male/female, how much money do they make, what level of education, etc.
Well, the guys at Quantcast might just have the information you seek, at least when it comes to US audiences; just go over to the Quantcast site and search for the URL you want demographics for, you will most likely find some useful information.
Here's what I learned about you, my dear Freewaregenius audience (note: the info provided is only for US based traffic).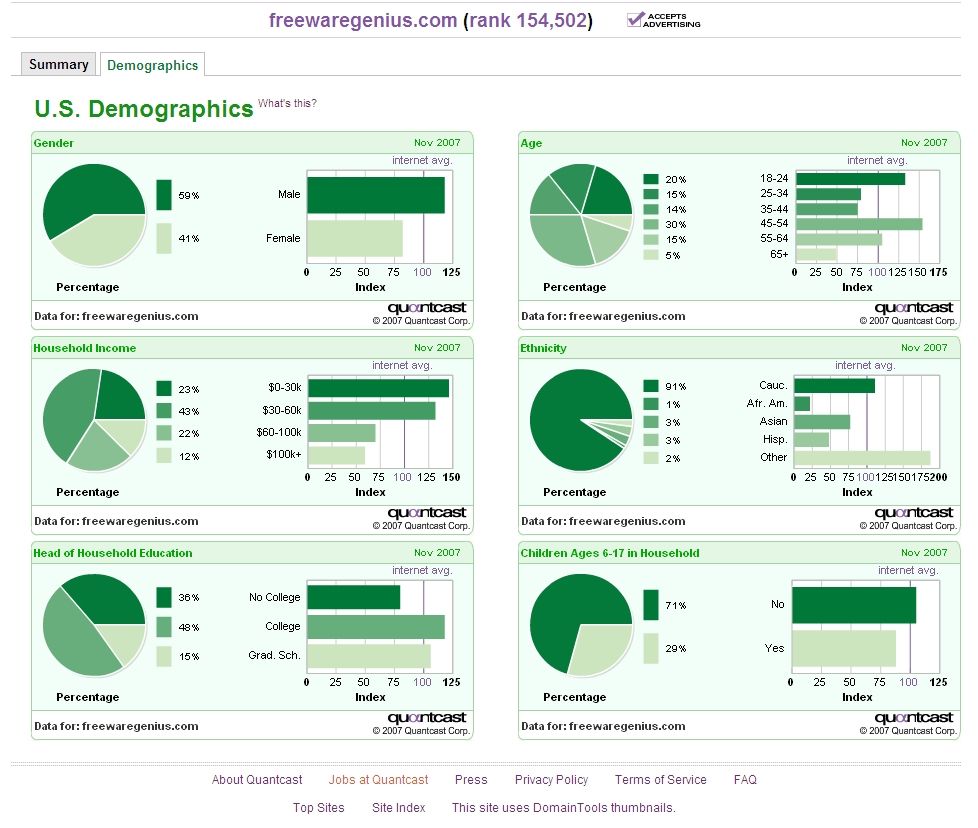 Approx. 60% male and 40% female. This one I would have guessed.
64% are age 35+, which I wouldn't have expected (20% are age 55+ and 5% are 65+ years of age).
Fully 34% of you make $60,000 or more a year, while 12% make more than $100,000. Which is interesting. If you belong in this segment then (a) find the "buy me a beer" icon in the top right corner of this page, and (b) donate some money ASAP.
90% are Caucasian. Wow. This is a rather surprisingly high number; therefore, if you know anybody who is not Caucasian whom you think would enjoy this site send them an email and recommend they visit.
48% have bachelors degrees and 15% have graduate degrees, making a full 63% of readership college educated in some way. (I always knew you were discerning brainiacs!).
Data collection methodology: at this point you might be thinking "but how do they find out this information?". The Quantcast website states that they have "a uniquely holistic media measurement system that combines the best characteristics of other web audience measurement approaches". Not sure what this means, but apparently they sample a sub-set of people and generalize their findings onto the entire population. They have a panel of "several million people who anonymously share their web usage history with [Quantcast]. Using statistical techniques [they] project which sites the rest of the U.S. web audience is visiting and publish basic profiles reflecting those estimates".
They also offer publishers (i.e. sites) another, more accurate method to collect data that would circumvent the inaccuracies and biases inherent in the above approach; you can get your site(s) "quantified" by inserting some code into your site that can better improve their ability to determine your true audience makeup.
Go to the Quantcast home page.