Have you ever wanted to reduce the size of an image file without losing any of the sharpness, clarity or detail? There are a great many tools available for this process, known as image compression and it can be a real trial to sort through them and find the ones that not only cost nothing but actually do what they promise with a minimum of muss and fuss.
With that goal in mind, I went on a hunt for the absolute best free compression tools. The resulting list will help you figure out which is the best for your needs, as they are all similar but with differences that can make a difference for your particular situation and requirements.
Each of these tools made it on my list because they had excellent 'loss' ratios, which means that there was very little loss of clarity in the image results. In most cases the loss was negligible, not even noticeable by the average naked eye.
PUNYpng

: Simple and fast gets it done.
PUNYpng may have a pretty funny name (try saying it five times fast) and a cute cartoon mouse on the splash page, but there's nothing hilarious about being able to compress your image files without even downloading or signing up for anything, and it will allow you to shrink up to 10 image files, with a maximum of 100KB each. I recommend it to anyone (a web designer, for instance) that has small images they want compressed even more for a web site or other project, but don't want to install anything on their computer to do so. It runs using Flash, so you'll need that installed (which most systems already have) and works with JPG, GIF and PNG extensions, which is up to the standards for most web sites. There's a more advanced version that requires you to sign up with an email address, which will allow you to work with up to 15 images and a max size of 150KB each and still costs nothing.
JPEGmini

: Free and easy, organized and pleasing.
JPEGmini also allows you to work straight from the web without downloading or signing up but the best way to use it is to create an account for free. One of the nicer things about JPEGmini is that it not only allows you to sign up using an existing Facebook account (as so many sites do now) but also allows you to sign up with an existing GMail account, which is a nice alternative for those who want fast and easy sign up and login. As opposed to PUNYpng, JPEGmini allows you to create 'albums' in their online interface to help manage your compressed image files, so I recommend it to anyone who has a larger number of files they need to get compressed but still don't want to actually download or install anything. It also runs on Flash and will work with the most common image formats (JPG, PNG, GIF). It is also available for MAC systems and both versions are totally free. The only possible 'downside' I found to JPEGmini is that when you upload your files they will take a little while to be processed (compressed) and placed into your 'albums' page for use. This is a small issue, however (no pun intended!) and they offer you the option to receive instant email notification when your images have been completed.
Kraken

: Options are your friend.
Kraken is one of my favorites, not just because it has a cool name, but because the interface is sleek and nearly dummy-proof. There's very little that you need to do on the page, without signing up or paying a dime, and you'll have a couple of options to choose right off the bat. You can use Chrome or Firefox to get to Kraken and you can even download the API if you're a developer and want to build your own applications around the Kraken program. Additionally, you can use the Kraken uploader interface (which also includes a drag-and-drop option vs. browsing and selecting) to send images from your local system to compress or you can give them the URL for the image you want compressed (which means you won't have to download an image that you've already posted somewhere, just to upload it to Kraken before downloading the resultant compressed file!). There's also an option to get an optimized, compressed version of your image(s) that is either 'lossless' or 'lossy' –meaning you can choose to allow a small amount of image quality loss in favor of higher compression. In other words, trading quality for a smaller file size. Again, most of the time this quality loss is not even perceivable by the naked human eye. Kraken is loaded with options but still doesn't ask you to pay anything or even sign up for anything if you don't want to. Whichever options you choose, you'll be able to optimize multiple JPG, GIF(animated or not) or PNG files at one time and get the results quickly and easily.
Caesium

: Keep it on your system.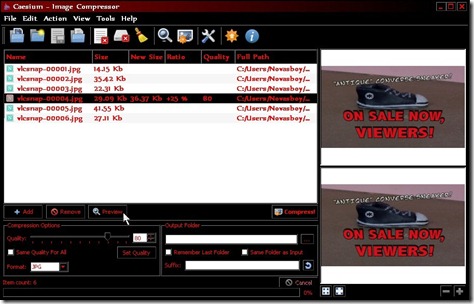 Caesium is the next step up in the realm of image compression tools, as compared to the others we've looked at so far. It allows you to download the program to your local system so you don't have to be connected to the internet to use it. It also allows you to download a 'portable' version that requires no installation and is exceptionally handy to keep on a thumb drive or other flash/mobile storage device (in a PC toolbox, for example) so that you won't have to worry about putting it on someone else's computer if you happen to be away from your own. Additionally, you can even download the actual source code for Caesium if you want to see how it works from a coder's point of view or even modify it for your own needs/desires. It supports the same standard formats as the others (JPG, GIF, PNG) and offers some features that the others do not.For example, you can view the original file side by side with the resultant compressed file to check for loss of quality or artifact bits. You can zoom in and out, using the built in viewer, and it supports a few different custom visual options as well. Batch file processing is supported, and will even allow different compression ratios per file in each batch. This one is for those who are a bit more serious about their compression, as well as being a bit more computer literate or tech savvy.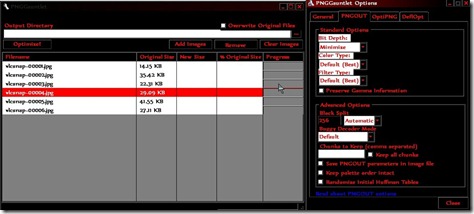 PNGGauntlet is, in my opinion, one of the absolute best image compression tools available at no cost on the Internet today, and is definitely the best of the ones I have included here in this post. It offers most of the important options that have been mentioned in other programs. It also offers power options that will give you a virtually loss-less compression, which uses such things as variable bit depth and compression scaling. It also, however, supports some file formats most of the others do not, such as TIFF and BMP formats! It is available for Windows(although it does require .NET 4.0), Mac and Linux too, so it may appeal to a greater cross section of the tech loving public. It has tons of custom configuration options, a clean interface, and of course a price tag of zero. While the program itself may not appear as flashy as some of the others, I can assure you that (in my experience with it, at least) the results were superior by varying amounts; from slight to major. I would suggest the Gauntlet as the best possible combination of worlds and options when you want the most compression/optimization power for the least amount of effort.
---
Whew! That was fun, wasn't it? Of course, this list doesn't cover every single compression tool out there, but it will certainly get your feet moving in the right direction to find the best one for you. Whether you are looking to optimize your images to make your web pages load faster and easier when people view it, or you just want to save space on your hard drive and make uploads faster to your social sites, these tools will get the job done and (best of all, of course) cost you absolutely nothing to use! Until next time, my friends.