I recently had to transcribe a number of video interviews into text. This turned out to be much more of a labor intensive project than I thought, and it quickly dawned on me that the process can be vastly improved via a few technological tweaks. This posting aims to present a step by step tutorial on how to do this most effectively.
At the heart of the problem is a simple issue: the need to change focus back and forth between program 1, such as a word processor or editor that you may be using to enter text, and program 2, the media player that you may be using using to play the audio or video. Transcribing, as I found out, involves a lot of stopping, backing up, typing, and then repeating over and over and over again.
This problem can be solved such that switching back and forth is done via hotkeys without taking your fingers off the keyboard, providing a streamlined, efficient experience. We promise an easy way to stop, back-up, and type, all via keyboard shortcuts. These may seem like very simple interventions, but having used this process myself, I guarantee that your transcribing experience will pleasantly transformed, and made much much more efficient.
We will discuss TWO ways to do this (using free software):
This program will play your media file, provide a text editing area below it, and employ keyboard shortcuts to play, pause, jump forwards or backwards for a (user defined) number of seconds.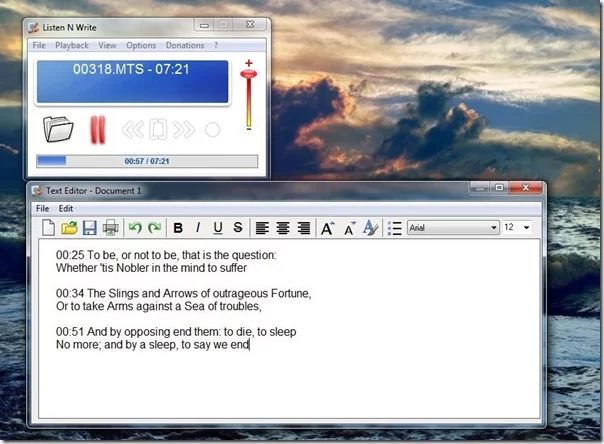 The default keyboard shortcuts are: F5 (pause/play), F6 (back), and F7 (forward). The version I tested does not offer any option to change these to other keys, but they do work well enough. What you can change is the number of seconds that it automatically backs up when you pause and then press play, and the number of seconds it jumps when you click back or forward.
One interesting feature is 'Smart Pause N Play', which you can activate from the options menu. This causes the player to play a few seconds of audio, stop for a few seconds, and then continue again. Both the number of seconds of audio and the number of seconds during the pause can be defined by the user. Finally, your text can be saved as .TXT or .RTF (which can be opened in MS Word).
Final note: if this program does not open the media file you have, install a free codec pack on your Windows system (such as K-Lite codec pack or CCCP Codec Pack) and it most likely will play it afterwards.
PROS:
The fact that it automatically backs up a little bit when you resume pause (very useful)
'Smart Pause N Play' can be very useful
A portable version is available, that you can extract and use and don't have to install.
Method #2: Using PotPlayer or another media player which supports system wide Hotkeys
This is a free a media player for Windows that (a) happens to play every single media file format on earth without the user having to install codecs on their system, and (b) can be controlled via system-wide hotkeys (or global hotkeys). These mean that users can control their media playback no matter where you are or what app is in focus, giving user control over playing, pausing, inching back or forward a few seconds, etc. without having to switch focus from the other application being used to type.
Note that you will need a word processor or text editor. If you want a good free word processor I recommend LibreOffice.
Other media players that support global hotkeys: VLC media player and Splayer (these were mentioned in the comments, I am sure there are others not mentioned here).
Step by step instructions (PotPlayer):
Step1: download and install PotPlayer here. The default install and audio output settings should be fine. It may suggest that you update your DirectX to a more recent version; this is optional but recommended if you're not in too much of a hurry.
Step2: Set up PotPlayer keyboard shortcuts:
Launch the program, right click preferences on the main interface (or simply press F5), then, in the left sidebar, navigate to General and click on 'Shortcuts'. The screen should look like the screenshot below. Next click the "add" button to add a shortcut.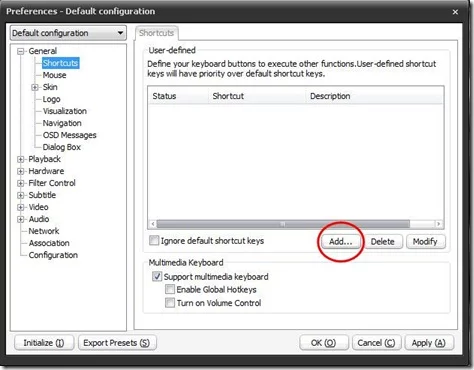 Next, in this screen, do three things (1) check "Focus of any window (global) may control", (2) click into the focus "Shortcuts" field then press (Ctrl+Down), and (3) scroll down to "Playback" and highlight "Play/pause". Then click "OK".
Next create another shortcut, similar to the one above, but use "Ctrl+Left" for your shortcut and scroll down to "Jump (to)" then "5 Sec Backward". Then click "OK" see screenshot below.
Create one last shortcut. Use "Ctrl+Right", scroll down to "Jump (to)" then "5 Sec Forward". Then click "OK" see screenshot below.
Your newly created shortcuts should look like the screenshot below. If so, click "OK" to exit out of the preferences page; if you see any problems in any one of them click on the shortcut then click the "Modify" button to edit it.
Notes:
My choice of keyboard shortcut (Ctrl+down/left/right) is a matter of preference. If you prefer other keyboard hotkeys then by all means use the ones you like.
In the off chance there are keyboard shortcut conflicts with other programs or the word processor program itself that you are using, try other hotkeys (e.g. Ctrl+Shift+down/left/right).
Step3: display settings
This step only applies if you you are also transcribing the timestamp location of the text as you type, in which case you would want to always have the timestamp be visible on screen.
Start playing your audio or video file; you can simply drag and drop the file onto the PotPlayer interface to do so.
Press "CTRL+T" to toggle "On top/On top while playing/Never on top", as per your preference .
Press "Scroll Lock" to toggle displaying time information more prominently on top of the display (which can be a huge help). If you cannot easily find "scroll lock" on the keyboard  you can toggle this setting by right clicking the interface, then "Options", then checking the "OSD: Show Time" entry.
Step4: start transcribing
Launch your word processor, text editor, or whatever you will use to type
Press "Ctrl+down" to start and stop the media file playback at any time
Start transcribing
Press "Ctrl+left" to back up 5 seconds
Press "Ctrl+right" to go ahead 5 seconds
PROS: The beauty of this system is:
It works. You will now be able to keep your fingers on the keyboard AND start, stop, and move backwards or forwards without ever leaving or switching from your text editor or word processor.
The program used here will work for audio and video, and will play just about any media format that you need to play, including strange and obscure camcorder formats that other players might not play.
You only have to set it up once.
---
Other options: 'Express Scribe', mentioned in the comments, no longer offers a free version so we did not feature it here (this site is 'Freewaregenius' after all). Another program that was mentioned, is called 'VisualSubSync' . Although it provides a nice waveform view and a text editor in the bottom, it is designed as a subtitling app for videos, and does not offer keyboard hotkeys for pausing and going back, so we did not feature it above.
Do you know of any good FREE software for transcription? Let us know in the comments.