MenuApp is a program that enables you to create folder shortcuts that function like start-menu style launchers (see screenshot).
Four steps to get your shortcut launchers up and running:
First step is to unpack menuapp in the appropriate place (e.g. "c:program filesmenuapp"); there's no installer.
Create a shortcut for the main executable "menuapp.exe" and place it where you want to use it
Right click on shortcut, goto 'properties', then the shortcut tab and in the 'start in' box type in the path for the target folder (see screenshot)
Rename the shortcut appropriately (changing the icon, like I did, is also a good idea, as the MenuApp icon is pretty drab).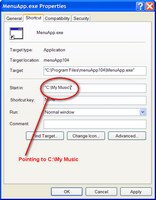 Typically at work I am working on, say, four or five projects simultaneoulsy, and for every project I set up a different folder with ever-changing files and filenames.
By using MenuApp to create a shortcut/launcher for each folder I can launch the file that I need and be up and running quickly and easily without having to manually navigate to each file I want to access.
Version tested:  1.04
Go to program home page for latest version.