If you have a Kindle 3 (the one with the 6″ screen) chances are that you love it, as I do. Except that reading most PDF ebooks and documents on Kindle 3 is rather annoying and can be downright impossible, with unreadable, miniscule text and lots of wasted white space in the margins.
This is the case because the Kindle 3 attempts to display each page of a PDF document fully on its 6″ screen, and the zoom function seems like it was purposely designed to be as unpractical and un-user-friendly as possible, segmenting your PDF pages into strange quadrants that make reading a chore.
In this post I am suggesting that the best way to read a PDF on a Kindle 3 involves cropping it first so that the white space in the margin as well as page numbers and any text in the header and footer is removed.
This process can in itself result in a PDF that is perfectly readable on the 6″ screen; but if not, I will also describe how to then convert your cropped PDF to the Kindle friendly AZW format, resulting in a continuous text, and without legacy headers, footers, and page numbers showing up as artifacts in your document.
The process described here is based on 4 assumptions:
That you do not need the white margin around the text when you are reading it on a Kindle
That you do not need page numbers (especially as the Kindle will display its own and calculate a percentage complete for you anyway).
That headers and footers can be dispensed with in the interest of getting a text that is more 6″ screen friendly, and finally
That once you get rid of these elements you can set out to convert the clean text to another format such AZW or MOBI.
Why crop?: you may be asking why bother cropping a PDF rather than simply converting to another format. The answer to this is that such conversions usually result in text in the header/footer and page numbers being strewn about your ebook as artifacts that interrupt the text and make for a very unpleasant experience. This post aims to help you produce a continuous ebook with a much better and more natural reading experience.
Tools mentioned in this article: a freeware called Briss that lets you manually crop your PDF document visually, and Amazon's free Kindle conversion service ). Note that in most cases cropping will be enough and you will not need to perform conversions of PDF to other formats. (You may also be interested in my full review of Briss).
I also mention a free program called PDF Split and Merge (henceforth referred to as PDFSam) that can be used to edit and re-arrange pages if you need to, and Calibre, a free desktop based ebook manager that can perform format conversion. (Also check out my full review of Calibre, full review of PDFSam).
Here are step by step instructions:
---
Step 1: Estimate your chances of success before you start out.
Eyeball your PDF file in your PDF reader on your PC to decide whether you should bother cropping. You should look for a page that has the most content in the document, and ignore the cover (and/or the back cover).
Depending on how much content is on the page, you can determine whether your document is liable to work on a 6″ Kindle 3 screen. All you have to do is look at an individual page in its entirety on your PDF reader and gauge, visually, how much content is on a page vs. the white margin around it, and whether it has dispensable content in the header and footer.
The image below shows 4 pages from 4 different PDF's where the probability of successfully attaining a decent result on a 6″ screen increases as you go from left to right:
The cropping objectives would be to eliminate not just the white margins (colored in green below) but also some of the elements in the text or so-called inked area itself (colored in pink).
The chances for success just by performing the crop is highest for documents #4 and #3, and lower for #2 (but it may still work if you subsequently convert from PDF to another format such as AZW). If your document is very content heavy, as in #1, you probably shouldn't bother trying to put it on your Kindle at all (in such cases save your time and energy and see if Amazon offers a native Kindle version that you could buy).
---
Step 2: download Briss (free). You do not need to install this program; simply unzip it to your desktop or an appropriate location. If you need a zip extraction utility you could use any of these free unzip programs.
---
Step 3: Run Briss and go to File > Load File, then browse to your PDF document.
A dialog will appear asking for pages to exclude from processing. Here, it might be useful to exclude the cover of your ebook from the cropping action (there really is no reason to crop a cover), inwhich case enter "1" and press "OK". Alternately if your PDF doesn't have a cover or you don't care to crop it simply click "Cancel" to move on.
Depending on your document the program might take a few minutes to load it up.
---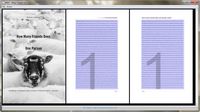 Step 4: Crop your document manually.
Once loaded, you will be presented with "piles" or groups of pages to crop. In the screenshot to the right you can see 3 groups: the cover itself, the odd-numbered pages and even numbered pages.
Use the mouse to draw rectangles around the text such that the page numbers and any text in the header and footer is excluded (outside the rectangles). Try to make the crop as close to the text in the middle as possible, and leave the cover uncropped. Go to "Action > Crop PDF" then save your cropped document under a new name.
---
Step 5: Troubleshooting. If you are having problems cropping then read below; otherwise move to step 6.
Troubleshooting (1) the document will not load in Briss: it could be password protected or locked or both. This freeware can help in this case (instructions here). Or try this web service to unlock your PDF quickly without loading up any software on your machine. If you find that your PDF is in fact not locked or protected and still would not load then the fault may be with the cropping program (Briss) itself. This program is still in its early stages and still needs improving and some kinks being ironed out. I apologize.
Troubleshooting (2) the program presents too many groups of pages: if your original document contains many irregularly sized pages you may see many groups of pages rather than neat and uniform groups in the screenshot here. If so, you will simply need to put more manual effort into it, cropping each of these groups separately, and not worrying too much about uniformity. Sometimes it can happen that you get many dozens of groups, which would be really unlucky and you might consider looking into the prospect of obtaining a better version of your source PDF.
Troubleshooting (3) impossible to make a clean crop: some documents will conflate text in the header (which you want to exclude) with chapter headers (which you want to include). You have 2 options in this case; the first is to separate all such pages (i.e.beginning of chapters) out of your document using a program such as PDFSam, and create two PDF files that you crop separately and then recombine using PDFSam again. The other option is to live with an imperfect crop that either truncates chapter headers or crop the footer and page numbers but leave the header intact, for example. The first option is better, of course, but it can be quite labor intensive.
Troubleshooting (4) columns: if your document is arranged into columns then crop each column on each group of pages separately. This will create many more pages in your cropped PDF than the source, but is probably necessary.
Note: if you find that more than one troubleshooting scenarios above apply to your document you might want to consider simply buying a Kindle version of your ebook from Amazon. Or bite the bullet and do the manual labor.
---
Step 6: copy the PDF to your Kindle, and see what it looks like on screen.
To copy a PDF to the Kindle plug it into the USB port then go to "My Computer". It will be displayed as a hard drive volume (volume "F:" for example in the screenshot to the right). Click into it then click into "Documents" folder. Next simply drag and drop to move your cropped PDF file to the "Documents" folder.
Next, eject your Kindle as you would any USB device (use the system tray icon). The cropped ebook will show up under the same name as your PDF file. Open it and see what it looks like and how readable it has become.
If you like what you see then you may stop at this point and not go any further. Mission accomplished. Otherwise continue with the steps below.
---
Step 7: convert your cropped PDF to AZW (Kindle format)
To do this, send an email to [email protected] with "Convert" as the subject, and the cropped PDF file added as an attachment. Note the following.
To determine "yourname" in the email address above, go to your Kindle management page at Amazon and sign in. Find the email address under the "Your Kindle(s)" title; it will read "Kindle E-mail Address" in the middle column. Note that you will not be sending to this email address ([email protected]) but rather to (

[email protected]

).
The difference between the kindle.com and free.kindle.com email addresses is that when using the former Amazon will send your converted document straight to your Kindle but will charge a fee ($0.15 per megabyte, with a max of $2.50), while in the latter it will send your converted document back to your official email address for free.
Make sure you send your email from one of your approved emails. You can check and/or add these on the same Kindle management page already mentioned in the section entitled "Your Kindle Approved Email List". Your converted document will be sent back on your "official" email address (the one that you use to log into Amazon).
Note that some email services have size limits on attachments in email (for example max attachment size in Gmail is 25 megs). Also note that you can zip your PDF first before attaching
The conversion will typically take less than 10 minutes before you receive the link to download the converted document by return email.
If you don't get your return email check to see if perchance it was interrupted and sent to the SPAM or junk folder. Make sure to set up filters to prevent this if it happens.
Once you download your AZW file you can transfer it to Kindle via the same process described in Step#6 above.
---
Do you know of a better way (or better tools) to do this? Please share in the comments section below.