TubeMaster Plus is a free tool that can download streaming video and audio files from almost any media sharing site, including sites with anti-leeching protection. TubeMaster Plus also can convert downloaded videos to several formats, offers a video search function across multiple video sources, and offers a downloadble audio mp3 search function.
[Review Updated July 4th 2009] Check out the new version of this app, TubeMaster++; forget about reading the rest of this review.
This program is a tool for downloading videos/music/streaming media from video and music sharing sites. I have learned a lot more about this program since first publishing this review two weeks or so ago, hence this updated review. Note that my original review of version 1.3.1.4 which as of this writing has been updated to 1.3.1.5.
This program combines streaming media downloads, FFMpeg for video conversion, an IE based internal browser, and a some sort of internet searching resource for finding (and downloading) audio files on the internet and videos across multiple video sharing sites. This program has multiple pros and cons, which I will list as follows: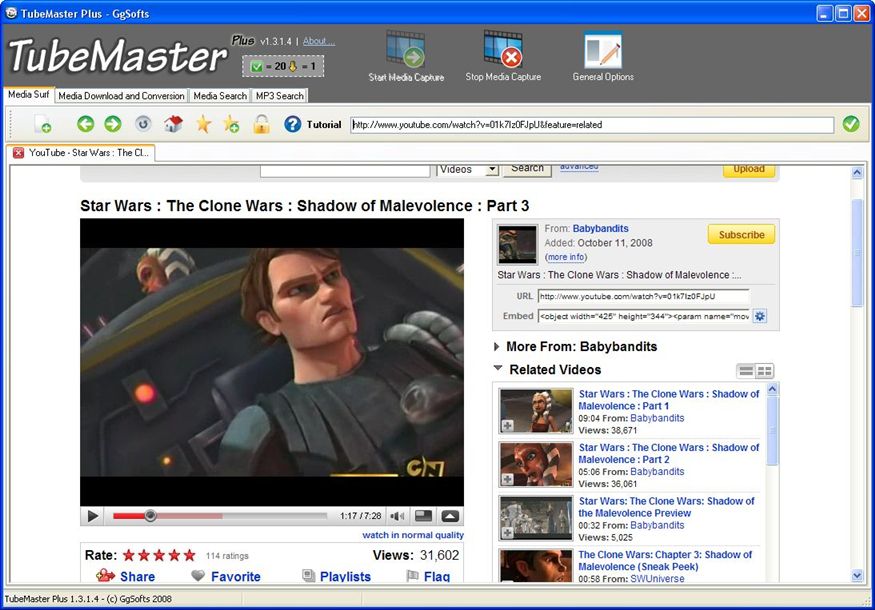 PROS:
Downloads media from sites that have anti-leeching technology: I tested TubeMaster Plus with Last.FM, Pandora, and Imeem and it worked beautifully! Note: this functionality is provided courtesy of the Orbit Downloader component of TubeMaster Plus.
Downloads various media formats: video and audio in multiple formats (see image to the right).
Does not install itself as a plugin inside your browser: instead uses it's own internal multi-tabbed embedded browser.
Music search: can search the internet and find downloadable tracks. It works very well and I highly recommend it.
Downloads YouTube vidoes in "HD" mode: when browsing YouTube, TubeMaster Plus will ask whether you want to download the higher-resolution MP4 video file versions of your desired video if these are available. (Not only are these higher in resolution but they can be uploaded to Ipods easily without conversion).
Global video search: looking for a video? Try using TubeMaster Plus's media search, which offers a "Global Video Search" that can search up to 100 video sharing sites simultaneously.
CONS:
Claims to be portable but isn't: installs 2 drivers into your system folder and 2 registry entries without warning and without an "uninstall" option. To remove these I have created a .BAT file which when run will remove all of these. Download it

here

. Note: make sure that TubeMaster is not being run when you run this. If you would like to know which files/registry entries are being deleted simply open the .bat file in a text editor. Works on XP, Vista only, assumes C: is you system partition).

Restricts adult sites: the developer has restricted this program such that free version will not download media from "adult" sites. How does it know that a site is adult? My guess is that it simply has or downloads a list of these sites that it refuses to download from. If you want to get around this try other media downloading programs such as Moyea FLV downloader, Orbit Downloader, xVideoService Thief, or VDownloader.
Media conversion is not what it could be: although it uses the powerful FFMpeg as its conversion engine, it doesn't offer the user much control in terms of the conversion quality and settings, and I personally would probably forgo it in favor of other, more powerful converters myself. (Converts from FLV to AVI (320×240 or 640×480), MP3, MP4 (Ipod/PSP), MPEG, WMV, and from AVI to FLV.)
More notes on this program as follows:
Note on downloading: when downloading a file on a web page you will need to keep that page "open" (i.e. not browse away from it) until the file has downloaded in it's entirety; otherwise you will probably see a broken download.
The verdict: overall a good tool that has a lot to commend it, but installing the "Orbit Downloader" instead may be a better idea. Still. TubeMaster has a lot to recommend it; the main draw for me is the ability to download protected media files without needing to install the program as a plugin into my browser (as for example is the case with Orbit). I also think the MP3 search function is terrific. Moreover, if you are like me (in that 90% of all videos that I download come from YouTube) you will love downloading YouTube videos in HD mode.
Version(s) Tested: 1.3.1.4 and 1.3.1.5
Compatibility: Windows 95/98/Me/NT/2000/XP/Vista .
Go to the program page to download the latest version (approx 4.6 megs).