UNetbootin (Universal Netboot Installer) is a small, free, cross platform app that can download and install Linux (or other operating system) on a bootable USB drive or a hard drive partition. It supports a wide range of Linux builds (25+ and growing) out of the box that it will automatically download from the net, or it can work with any locally downloaded ISO images that you might want to use.
It can also automatically download and create Live versions of various system utilities, such as Parted Magic, System Rescue CD, Ophcrack, and Kaspersky Rescue Disk to name a few examples.
If you would like an operating system on a USB drive then this tool is what you're looking for. The nice things about booting Linux from a USB rather than a Live CD is that obviously you can save your data on the USB, so it's a viable computer-on-a-stick, so to speak.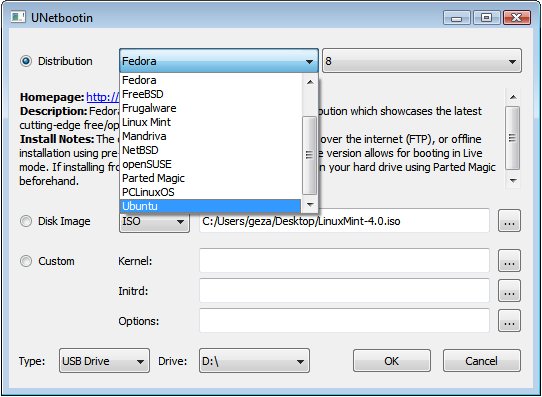 The beauty of UNetbootin is not that it can instantly create a bootable OS on a USB for you (which it does), but rather that it can deliver the latest build of so many Linux distros and LiveCD utilities instantly. It is also extremely simple and easy to use; you will literally get through the entire process from start to finish at the press of a button.
More notes below:
How it works: download and run, no install needed. You will be asked to select your OS or LiveCD from a dropdown (or specify a downloaded ISO), choose where to install (USB drive or local drive), and you're done. Ok so there are a few other options but most users will not be interested in these.
Will it work: yes, although when I tried it I was able to install Slax effortlessly but Ubuntu 9.10 Live did not boot. It is possible that I selected the wrong version to install though; I may have needed to select the "netinstall" version from the dropdown for a USB installation.
Installing other OS's: it is possible to install any other OS to bootable USB or to a local drive. You will need either an ISO file or disk image file.
Non-destructive install: which means that it will not format your drive, and any data that you may have on there will be preserved and will still be there even after installation.
Linux distros supported: a huge list, including the latest builds of Ubuntu (and official derivatives), Damn Small Linux, Frugalware Linux, Sabayon Linux, Puppy Linux, Linux Mint, Arch Linux, Dreamlinux, gNewSense, PCLinuxOS, openSUSE, Mandriva, FreeBSD, Zenwalk, Debian, SliTaz, NetBSD, Fedora, Gentoo, CentOS, FaunOS, MEPIS, Elive, Slax, and xPUD.
Unsupported distros: if you are interested in a Linux distro that is not supported, simply download it and point Unetbootin to the ISO file.
System tools supported: Parted Magic (partition manager), SystemRescueCD, (system repair/recovery), Super Grub Disk, Dr.Web Antivirus, F-Secure Rescue CD, Kaspersky Rescue Disk, Backtrack (network analysis), Ophcrack (recover Windows passwords), NTPasswd (reset Windows passwords), Gujin, (a graphical bootloader), Smart Boot Manager (SBM), and FreeDOS.
Uninstallation: simply format your USB. If removing an uninstall from a local drive you might want to read the instructions on the UNetbootin website.
Wish list (or how this software can be even better)
A cleanup option: UNetbootin downloads and extracts huge ISO files to "AppdataLocalTemp" and unless you seek them out and erase them afterwards they will occupy space needlessly (and, I have found, by default are not removed by CCleaner).
Download size indicator: would be nice if it told you the download size of your selected build before you gave the go-ahead, as this might influence what you end up choosing. You will know this once you get to the download screen, of course, and can always go back and change your selection. But it makes more sense to give that info up front.
The verdict: very nice; not just for its ease of use but also for the range of supported Live CDs, including terrific system utilities such as parted Magic and the Kaspersky Rescue Disk.
Can also be quite handy if you have the ISO for any other OS and want to make a bootable USB out of that. Overall highly recommended.
Version Tested: 3.91
Compatibility: Microsoft Windows 2000/XP/Vista/7, or Linux. If you are downloading your Linux builds from the net (as opposed to using a pre-downloaded ISO image) you will need a good, broadband internet connection.
Go to the program home page to download the latest version (approx 4.358 megs).