XnView Shell Extension is a free Windows explorer extension that installs a number of image-related tools in the right-click context menu, including a thumbnail preview, image conversion to a wide variety of formats, image resizing, editing image IPTC metadata, uploading to ImageShack, and other functions.
All you need to do to get a grasp of what this program is about is look at the screenshot above.
XnView Shell Extension's most striking feature is the thumbnail in the context menu, but more than that it offers a number of useful functions mentioned in the description above. Here are more notes on this program: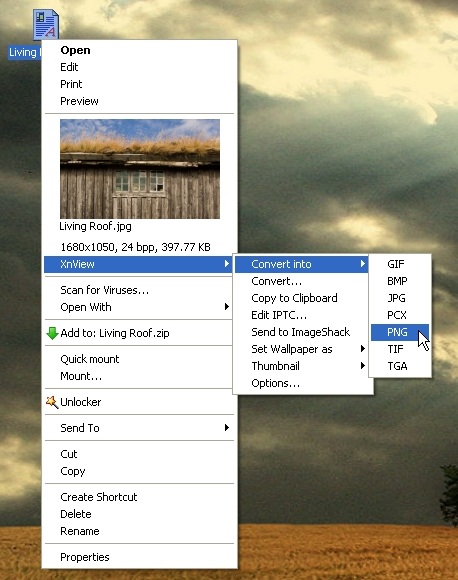 Layout: there are 3 different ways that XnView Shell Extension can be displayed in the context menu. The above screenshot, which is my favorite, shows the image preview displayed in the main context menu and the other functions in a submenu, but you can opt to have the preview be pushed into the submenu as well (see image to the right) or otherwise decide to display everything (preview and other functions) in the main context menu (not pictured).
Image conversion/resizing: you can either convert to another image type or convert and resize. The supported image formats to convert to is breathtakingly long, and includes PSD, PNG, TIFF, and about two dozen others most of which you've never heard of.
Editing IPTC metadata: this stands for "International Press Telecommunications Council". The range of information is exceptionally broad, and XNShellView's support for this alone makes it worth installing.
Uploading to ImageShack: ImageShack, one of the biggest image hosting services on the net, allows you to upload images without registering and provides you with a URL for use from any site or project. XnView Shell Extension makes uploading to this service 1-click away.
Customizability: if you do not want any of the functions in the custom menu, you can pick and choose and simply switch it off. You can make the image preview thumbnail bigger or smaller.
XnView: this program comes to you form the same people who brought you the XnView image viewer, but you do not need to have XnView installed to run it.
Wish list:
Uploading to Flickr and other services, would have been great.
Launching the image in the default image viewer when clicking the thumbnail, would have been good. Currently you click the image and nothing happens.
The verdict: this qualifies as the proverbial (and at times overused) "swiss army knife" utility for image files, right in the context menu. The main draw for me is the preview in the context menu, with the IPTC metadata editing a close second and the image conversion close behind (I will admit that as far as image conversion in the context menu I really like VSO Image Resizer for it's support of user defined profiles, but this one is excellent too and offers support for a wider range of formats). All in all an excellent program. Recommended!
Version Tested: 2.40
Compatibility: WinAll.
Go to forum page or the download page to download the latest version (approx 815K). Note: you need to download and install XnView Shell Extension Setup, not XnView.