ActiveHotkeys is a small, free portable app that can scan and display all active hotkey combinations on your system that are being used by various applications.
Have you ever wondered about what shortcuts on your PC are taken/being used by various applications? Well then take a look at ActiveHotkey, a small app designed to give you exactly that information. More notes on this app below: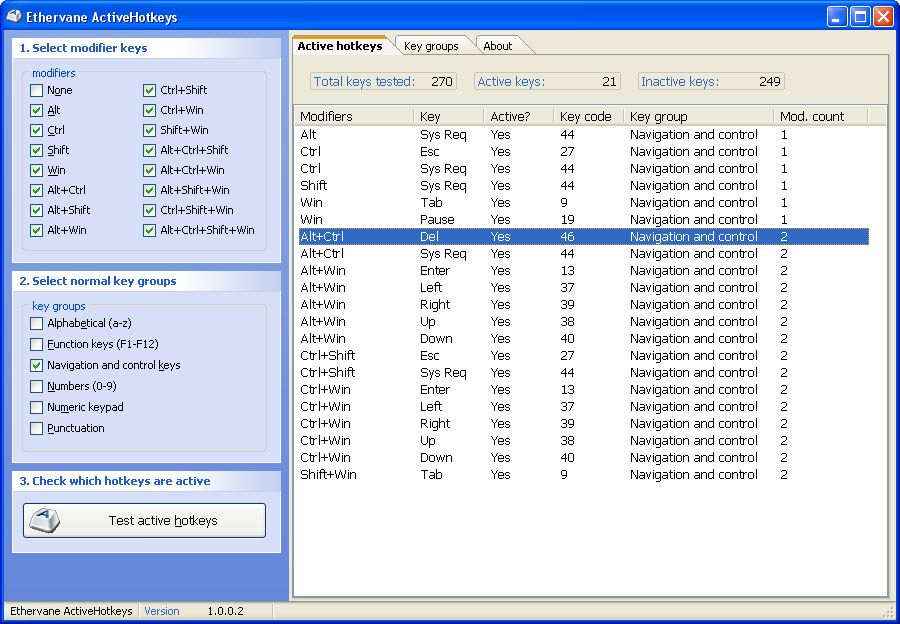 Results: ActiveHotkeys will show a list of all active (registered) or inactive (available) global hotkeys.

However it will NOT reveal the app(s) that are registering the hotkeys

, which apparently (as the author states) is a limitation of Windows and not the app itself.
Filtering by key: you can filter the displayed list by a combination of modifier keys (e.g. Alt, Alt+Win), and normal key groups (e.g. alphabetical, function keys, etc).
Filtering by active shortcuts only: if you want to ONLY see shortcut combinations on your system that are currently being used, you can do this by right clicking and checking "show only active hotkeys". A rather unintuitive way to do it but it works.
Sort column headers: a fast and easy way to cluster your results in whatever way makes sense to you.
Copy/Save results: right click to save the results list of copy it to the clipboard.
Portable: just unzip and run, no installation necessary.
Wish list (or how the app can be even better):
Better reliability: I noticed, as an example, that ActiveHotkeys did not list the global hotkeys used by volume manipulation app 3RVX (Win+arrows in this case) even though they were active. Not sure why that was the case, but to me it puts a big question mark on the app's reliability.
Scan inside a program's environment: it would be cool if I could launch an app and ask ActiveHotkeys to investigate it and tell me what hotkeys are active inside the app environment.
Select all/Select none buttons: in the left hand filters list, for both the modifier keys and the normal keys filters. Will make it easy to interact with the filters.
The verdict: very useful. I have a list of "app ideas" that I keep and this was one of them; I can now strike it off the list 😉 . I would have loved for the app to tell me which programs are registering the hotkeys but it seems that this is not possible because of Windows, not ActiveHotkeys itself.
[Found this nice app through the terrific DonationCoder]
Version Tested: 1.0
Compatibility: Windows All.
Go to this page to download the latest version (approx 509K).