This happened to me: I installed a new image-related freeware to test it, and all of my image thumbnail previews disappeared, to be replaced by icons. If this happens to you you know it can be quite frustrating, especially if you are unsure as to what might have caused it in the first place.
The good news: this post will suggest three different ways to fix it. We promise that your thumbnails will be back, without necessarily having to uninstall the offending application that may have been responsible and without trying to undo any event that you may have introduced that caused the thumbnails to disappear.
We suggest that you try the following three interventions in order. The first two involve changing interacting with Windows, without installing any software. If these don't work, try the third option, which involves using a simple freeware that most certainly will get the job done.

Note that this article was made on Windows 7, but the info presented here should work on Vista and Windows 8 as well.
1. Check Windows Explorer Settings to see if thumbnails are disabled
1.1. Open any folder in and click ALT+T on the keyboard, then select 'Folder Options'
1.2. Click on the 'view' tab. Make sure that the checkbox next to 'Always show icons, never thumbnails' is unchecked. If it is checked, go ahead and uncheck it.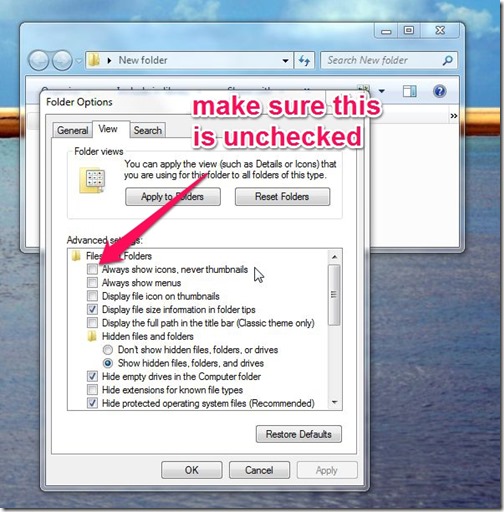 1.3. Click 'ok' then go back to Windows explorer and verify whether thumbnails now appear.
2. Refresh/rebuild the thumbnail cache
If the above does not solve the problem, try rebuilding the thumbnail cache. This can be easily done by (a) from the desktop, type 'Windows Key+R' to get the run prompt, then (b) type in 'ie4uinit.exe –ClearIconCache'
Now check to see if this has fixed it. If not, it's time for the heavy artillery!
3. Install SageThumbs
SageThumbs is Windows freeware that adds thumbnail support to a wide variety of image types in Windows, including many image file types that do not have native support in Windows such as SD, IFF, TGA, and XCF  (to name a few). Regardless of why your image thumbnails stopped showing, SageThumb will most likely bring them back again.
Once you install SageThumbs, you don't really need to do anything else; check to see if you thumbnails are back. If not (or if you want support for more filetypes) run SageThumbs options for your OS (32 bit vs. 64 bit) and select the filetypes you want to add support to, before clicking ok.
That's it. Enjoy your thumbnails (again)!