Once you have been using your computer for a while, then you've likely downloaded many files, installed many programs, and created many documents. This activity of installing and saving off files can potentially create many duplicate files in the same or different folders and unnecessarily take up disk space on your hard drive.
You cannot know exactly which folders to look into if you want to clean your files up, since you do not know where the duplicates might be.
Because finding and removing these duplicate files manually is impractical, what you need is a FREE application called AllDup – a desktop utility for Windows that helps you identify and remove duplicate files. AllDup is powerful, elegantly designed and provides sophisticated filtering options for managing file lists.
AllDup is a free to use desktop application that comes in installable and portable versions sized at nearly 3 MB. When you run the application, you find that it has a visually appealing and intuitive interface which is very easy to use. You can start by selecting the source drives or source folders where you want the search for duplicate files to be conducted. Subfolders are automatically scanned by the app.
Next you can specify the criteria of the search. Duplicate files are not only ones that have the same name but can also be files in the same folder with the same format, same size, modification date, creation date, attributes, hard links, size, and content. Given the options provided by the application, you can easily detect and remove even those duplicate files that are not named the same.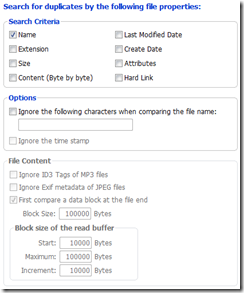 Once your settings have been adjusted, you can execute the search for duplicate files. The time taken during the search depends on what kind of duplicates are you searching for. Duplicate files are then grouped together and made available for you to remove.
In Conclusion
This application is a must-have for any PC owner who wants to remove duplicate files from their system in a few simple clicks. What makes this software attractive is the nice user experience it provides: Alldup brings to bear powerful filtering options to process the resulting lists of files. Duplicate files are grouped together and can be managed via the buttons/functions in the program toolbar, and column heads can be clicked to sort the results using various criteria. Another attractive feature: AllDup also offers the option to use a portable version, so you do not need install the program in order to use it.
What I would have liked to see is the ability to create hardlinks for duplicate files from the program itself, a feature supported by Duplicate Commander, another dedupe program previously mentioned on these pages.
If you tried Alldup, please share you views using the comments section below.
Download AllDup (Windows).