If you listen to music and  find yourself thinking about the different individual tracks, or wondering how the song will sound if it was transposed a few tones or if it was in a different key, or if you just like to experiment with music, then you will probably like these 5 free tools.
'Sonic Visualizer' is a music visualization app, SlowMP3 can slow and transpose MP3s and help identify chords in a song, BPMinus will let you change pitch and tempo and perform BPM analysis, 'GBK Music' can help find chords and scales for guitar, bass and keyboards, and finally 'Pitch Ear Trainer' can help you train your ear for perfect pitch recognition.
1.

Sonic Visualizer

: a powerful audio visualization tool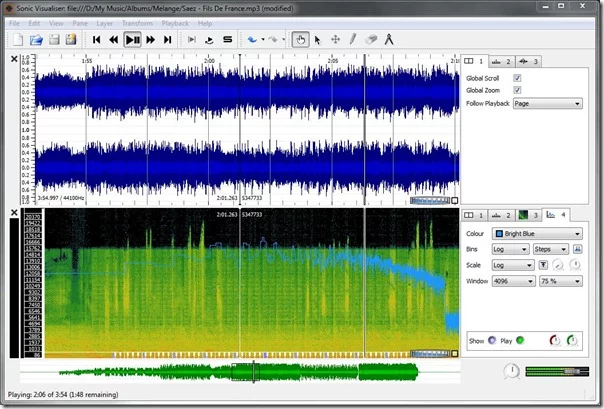 The screenshot for this program fails to do it justice, because though it looks like an average sound wave, in fact this program can produce a wide range of different visualizations and display them in separate panes or layered on top of each other.
Sonic Visualizer can also be extended via downloadable effects plugins that add to its functionality (Vamp, LADSPA, and DSSI effects plugins). VST plugins are not directly supported but Windows users can get limited support via the Audacity VST Enabler.
Sonic Visualizer is multiplatform (Windows, Linux, Mac).
2.

SlowMP3

: slow down or transpose music tracks
SlowMP3 will let you change the speed of an MP3, transpose it upwards or downwards, and transcribe it on a keyboard for chord detection. Its small and simple, and requires Java to run.
3.

BPMinus

: slow, loop, and change the pitch of audio tracks
Another audio file manipulation software similar to SlowMP3 (above). BPMinus is designed for BMP analysis and will let you loop segments of audio files, change pitch as well as speed (temp), and a number of other interventions.
4.

GBK Music

: find chords and scales easily
A small yet useful tool designed to help find scales and chords for Guitar, Base, and keyboards. Displays chords for right and left handed players.
Do you think you have a good musical ear? Prepare to be humbled by this small program, which will play notes based on certain user-defined parameters and ask you to identify them. All you need to do is set the number of guesses and the pause between them, but you might need to limit the tones to a subset of the normal keyboard, to make things easier.
---
That's it. Your comments are appreciated as always, as are apps that you like that are not in this article.