Free YouTube to iPod Converter is a tool that can download YouTube flash (FLV) videos and convert them into Ipod Video, PSP, or Mobile device compliant MP4 video file formats.
Here's how it works. Find a video on YouTube that you want and copy its URL, then paste it into "Free YouTube to iPod Converter". Next choose the quality setting for your desired video and, after a brief wait (depending on the size of the video file) your file is done, ready to be uploaded into your Ipod or device.
What's really cool about this program is that for each type of supported device (Ipod, PSP, mobile) it has three predefined quality settings that you could choose from that make it extremely easy to use.
The user has nothing more to decide than low, medium, and high quality. After that the video is downloaded and converted efficiently and , in my experience, without problems (no missing audio, no audio/video sync problems).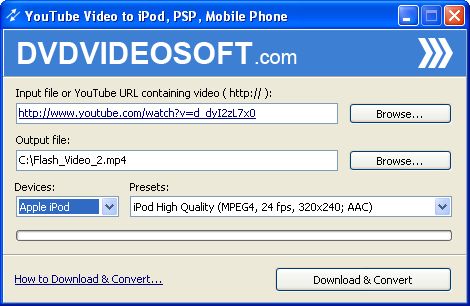 The only thing I don't like about this program is a splash screen that cannot be turned off and feels like a borderline nag screen. Otherwise this is a very handy tool that does the job well.
Version tested: 2.3
Compatibility: WinAll.
Go to the program home page to download the latest version.